Yiben's awesome leaders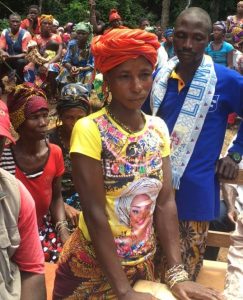 Serah, the Mammy Queen and her husband, Chief Bangalie are the power behind the community's efforts to bring their national health services to themselves. Both spoke eloquently in Limba (with translation for the Aussie visitors) at the opening celebrations of Stage 1.
As the women's leader, Serah voiced their long frustrated efforts to be included even in bednet distribution and parasite control because of their isolation. She spoke of becoming pregnant and giving birth: "We know we will live or die."
Both leaders expressed the gratitude of the community to Mallam and SET4LIFE Australia for helping them become recognised for services by the Ministry of Health and Sanitation.