A 'window for action'
The Healthcare Centre and services are to be developed over three stages and, thanks to Mallam and the Healthcare Committee, construction is about to begin! 
Stage 1, a Day Clinic (and Toilet Block), will provide standard treatment and advice for common conditions, access to immunisation programs, and special monitoring and care for the most vulnerable – mothers, babies and children under 5. The Day Clinic service will be basic, but it will improve health outcomes for all and save lives!
The plans are drawn and the contractor engaged. The villagers are making mud-blocks, will cut and size the timber needed and provide much of the construction labour. It's a race against the season as the last wet began early and was prolonged and extreme. Crucial periods for farming must not be disrupted as food production is the first priority always. The 'window for action' is now.
For our part, we need to ensure we can fund the materials as they are needed… Large quantities of cement (for the foundations, floor, mortar and render), reinforcing rods and zinc roofing are the next major expenses.
Our fundraising efforts are ongoing and we welcome all the support possible to help establish Stage 1 of the Project.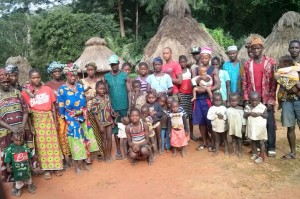 More than 1000 people from Yiben and surrounding communities will for the first time have reasonable access to basic modern healthcare.