Reason to party…..
Singing and dancing into the night marked the latest gathering of 13 communities in the village of Yiben.
They were celebrating the next step in the process of bringing healthcare to their region – the formation of their executive Healthcare Committee. Its members represent each village that will contribute to and benefit from the project.
Discussions centered around their population demographics, and their part in planning and overseeing the project, helping with the construction of the Clinic in Yiben and promoting information programs.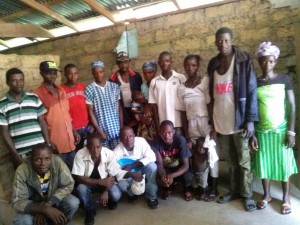 Congratulations again to Mallam for coordinating the effort and to the 13 elected representatives. They will be led by Chairman, Maloka Koroma from Yiben, standing fourth from the left.