Calling for concrete assistance….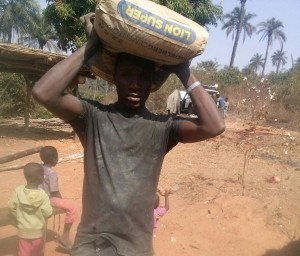 Can you help? Construction is underway and approx. 200 more bags of cement are urgently needed to complete stage 1 and the toilet block.
A 50 kg bag of cement plus transportation is just $20. You could help build the clinic by buying just one or more bags. 
While mudbricks form the basic structure, for long-term durability against the torrential wet seasons, cement must be used for the foundations, the pillars, the floor and steps, the mortar and for rendering inside and out. 
The 50 kg bags (as compared with our 20kg bags) are transported 35 km by road to Mallam's village of Kafogo, then transferred  to okadas (bike transport) for a slow 12 km trip along the bull-dozed and badly-weathered road towards the river crossing. From the end of the road they are carried by strong young men to the river for a carefully executed passage by dugout canoe,  then carried the final few kilometres to Yiben. You'll agree its much easier to give a few dollars!!!