Mission and Goals
SET4LIFE Australia is a registered not-for-profit charity based in Gympie, Queensland. Our work is carried out through the voluntary efforts of our members and supporters and the generosity of local sponsors who help us to cover costs. S4LA was established in April, 2015 to strengthen access to essential development for the people of Yiben and surrounding villages.  
NO health services have previously reached these remote communities and S4LA is providing them with the means to access their government's basic health services and additional NGO services.  We are working to support their goals within the bigger context of national and global health development goals. Our personal connection with Yiben and the local Manager, Minkailu Bantama (Mallam) allows us to work with local decision-makers to plan and prioritize our support.
UNITED NATIONS SUSTAINABLE DEVELOPMENT GOALS
The 17 Global Goals, are a universal call to action to end poverty, protect the planet and ensure that all people enjoy peace and prosperity. S4LA's activities contribute specifically to two of these goals:
Goal 3 – Ensure healthy lives and promote wellbeing for all at all ages 
Key targets we will help to achieve
3.1 By 2030, reduce the global maternal mortality ratio to less than 70 per 100 000 live births.
3.2 By 2030, end preventable deaths of newborns and children under 5 years of age, with all countries aiming to reduce neonatal mortality to at least as low as 12 per 1000 live births and under-5 mortality to at least as low as 25 per 1000 live births.
3.3 By 2030, end the epidemics of AIDS, tuberculosis, malaria and neglected tropical diseases and combat hepatitis, water-borne diseases and other communicable diseases.
3.7 By 2030, ensure universal access to sexual and reproductive health-care services, including for family planning, information and education, and the integration of reproductive health into national strategies and programmes.
3.8 Achieve universal health coverage, including financial risk protection, access to quality essential health-care services and access to safe, effective, quality and affordable essential medicines and vaccines for all.
Goal 6 – Ensure availability and sustainable management of water and sanitation for all 
Key targets we will help to achieve
6.1 By 2030, achieve universal and equitable access to safe and affordable drinking water for all
6.2 By 2030, achieve access to adequate and equitable sanitation and hygiene for all and end open defecation, paying special attention to the needs of women and girls and those in vulnerable situations
 SIERRA LEONE NATIONAL HEALTH GOALS AND PRIORITIES
We share the Sierra Leone Ministry of Health and Sanitation's belief that access to sound health care is a human right. We support their overall goal to improve the health of their citizens by ensuring a functional national health system delivering efficient, high quality healthcare services that are accessible, equitable and affordable for everybody in Sierra Leone.
Achieving this goal will be long-term and challenging for the government as they struggle to deliver basic services. Our activities are directly supporting their goal and the national health priorities:
Poverty reduction
Mortality rate reduction, especially for women and children
Free maternal and neo-natal healthcare
Free immunisations
Utilisation of bed nets
Promotion of hygiene practices
Access to safe drinking water
Environmental sanitation
COMMUNITY GOALS
S4LA is responding directly to the Yiben Community's appeals for longer, healthier lives through:
Access to modern healthcare
Inclusion in national health services and programs
Improved water and sanitation.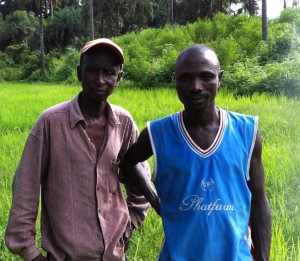 Project Manager, Mallam and Chief Bangali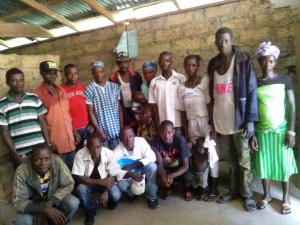 The Yiben Community Healthcare Committee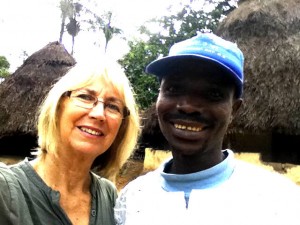 Jude and Bangali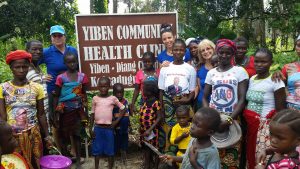 Some of the Yiben Family with Karen, Amy and Jude
We are working to help them realise these goals by empowering the community, funding facilities, enabling services, promoting health education, facilitating service partnerships, ensuring sustainability and growing the vision.  The facilities based in Yiben will serve more than 1000 people from 13 villages in the immediate area.